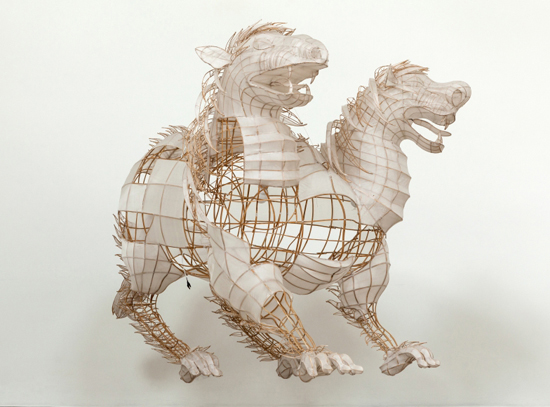 Ai Weiwei - Chuti, 2015 - Bamboo and silk
We are excited to announce the opening of the Stockholm gallery with Tyre, an exhibition by the renowned Chinese artist and activist Ai Weiwei. The viewer will encounter works that oscillate between the rich iconography of Chinese history, contemporary expressions, and artistic predecessors and collaborators. The exhibition, curated by the artist, does also mirror injustice as well as hope in contemporary society.
Conceptual Art, Minimalism and Zen Buddhism. Andy Warhol and the non-elitist expressions of pop art and the revolutionary aesthetics of Dadaism: in Ai Weiwei's art these elements converge at a core of political and social topics. From a prominent position in the late 1970s Chinese avant-garde Ai Weiwei moved to New York in 1981 where he spent more than a decade in a crowd among names such as Allen Ginsberg and Wang Keping. During his New York years, a growing familiarity with Marcel Duchamp's oeuvre made a deep impact on Ai Weiwei whom adopted an attitude of constantly challenging genres and questioning imposed limitations on art and mankind. In the conceptual work Dropping a Han Dynasty Urn (1995), an act of destruction is documented through a series of three analogue photographs, and was created shortly after his return to China. The urn crashing into pieces on impact with the ground can be interpreted as a representation of a Chinese society during times of dramatic change. As much as it speaks of societal transformations, the recorded action is a symbol of hope. Included in the exhibition is a rendering of Dropping a Han Dynasty Urn using LEGO blocks to recreate the image of this iconic work.