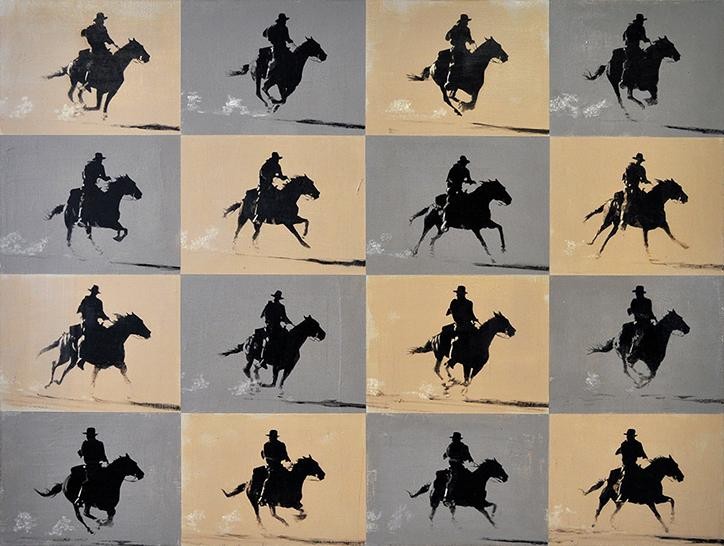 Rendezvous With Destiny, 2017, Acrylic on Canvas, 7.5 x 14
- A U G U S T E X H I B I T I O N -
VISIONS WEST, BOZEMAN
G O R D O N M c C O N N E L L
"My arrival in Montana in 1982 brought me into intimate contact with some of the most storied places of the historic West and also gave me the opportunity to study the paintings of two of the most influential codifiers of western imagery, Frederic Remington and Charlie Russell. I became aware of how decisive an effect their work, and the work of other western illustrators, had on the formulations of filmmakers like John Ford, William Wyler, and Howard Hawks. At the same time, I recognized how distinctly different the formalized imagery of western films, in its temporal, technological, and theatrical mediation, is from any painting."
- Gordon McConnell
Come see the interesting progression of Gordon McConnell's career in his upcoming show at Visions West, Bozeman, hanging from August 11th through September 19th. To see the works in the show click here For more information on Gordon's background as an artist, click here.
A Possible Explanation for the Appearance of Swallows,
Mollucan Cockatoo feathers, 35x55
- N E W W O R K -
C H R I S M A Y N A R D
BOOK SIGNING IN LIVINGSTON
Weds. August 22nd from 3-5 pm.
Popular feather artist Chris Maynard's will be bringing his unique vision, in multiple new works, to Visions West Livingston for the August Art Walk. The exhibition will open during the Art Walk on Friday, August 25th and will run through September 21st.
Chris will be in the Livingston gallery on Weds. Aug 22nd to sign books and visit with people about his unique work.
Using a tiny scalpel as his primary tool, Maynard carves birds out of feathers, then mounts his creations in shadowboxes, so that the carved feathers and feather birds cast shadows across the canvas just as real birds cast shadows across the landscape when they fly. His exquisite and imaginative compositions not only illustrate his background in science, and his ingenious technique, which he developed himself over many years, but show his aesthetic fascination with the "art" birds create--feathers. See more work here
Chris has been receiving much warranted national attention with his poetic and exacting pieces. To read a recent review in the Seattle Times click here and for his profile on our website, here.
Field Trial, Acrylic on Canvas, 42.25x48
- N E W G A L L E R Y A R T I S T -
C A R L Y G L O V I N S K I
Visions West Contemporary is excited to welcome New England artist Carly Glovinski to our roster of artists. Her playful trompe de l'oeil work distinguishes her as wonderfully accessible conceptual player on the scene.
From the Portland, ME Press Herald: "Glovinski was classically trained as a painter, but she turned to making simulacra - counterfeit objects.... Glovinski's work finds its path intuitively, whereas most similarly conceptual work is calculated to outsmart the viewer. It's a tough model: To outsmart the viewers is to insult them, while not outsmarting the viewers is to leave them unimpressed. Glovinski's work, on the other hand, is disarmingly warm, playful and engaging."
Read the full article here.
- I N T H E N E W S -
D A V I D Y A R R O W
Celebrated wildlife photographer and Visions West artist David Yarrow continues to cross borders and hop planes to capture iconic images from Africa to the US and beyond. His recent trip to Katmai, Alaska to photograph the famous brown bears of the area sheds light on the fine tuned details of his approach. David has penned a "Letter From Alaska" which offers insights into his wanderings in this wild landscape.
"I will take these sandy river banks any day over the beaches of St Tropez. Alaska and some of its wonderfully eccentric locals are an antidote to the hurried vapidity of big city life."
To view more images of his grandiose photos (such as American Idol, pictured above,) visit our website for more examples.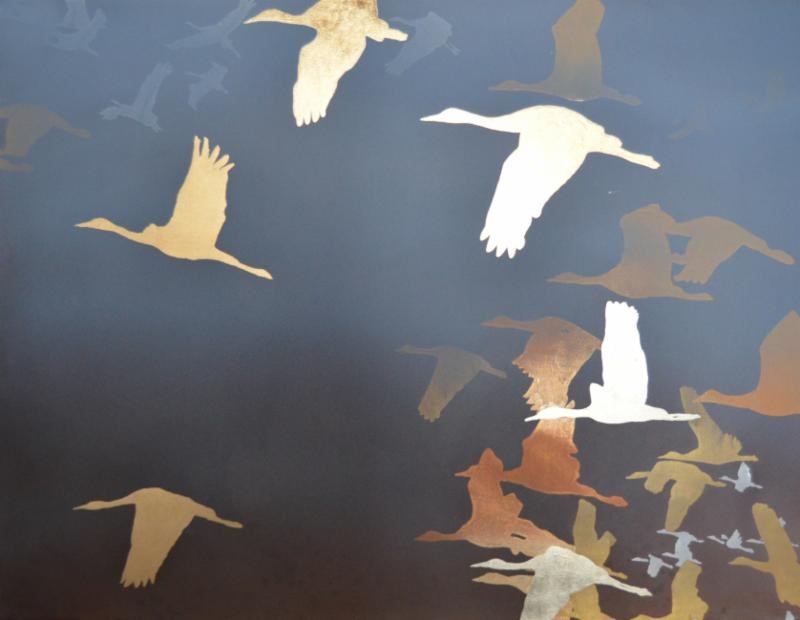 Return Too, 2017, acrylic, gold and silver leaf on canvas, 62 x82
- N E W G A L L E R Y A R T I S T -
T H O M A S S W A N S T ON
Vision's West Contemporary is excited to wellcomeThomas Swanston to the gallery. Exhibiting regularly in non profit and for profit galleries in Boston, Atlanta, New Orleans, Los Angeles, Santa Fe and with Fine Art consultants across the country, Swanston has had 14 solo and 46 group gallery exhibitions. He has been included in 8 museum exhibitions and published in over 55 trade and lifestyles magazines. Swanston's work is collected in public and private collections in the US, Europe, Korea, China, Japan, Mexico and the Caribbean.
Born in 1956 in Annapolis Md, he graduated from Hobart & William Smith Colleges 1978 with a Bachelor of Arts, with studies in London and at the Studio School in New York, New York. Swanston matriculated in 1980 - one of only twelve of the first Parsons Master of Fine Arts Diplomas offered.
Visit our website to view more work by the artist.
Ursus Americanus Unplugged, oil on canvas on board, 20x20
- VISIONS WEST JACKSON - THE STABLE -
R O B E R T M c C A U L E Y
Robert McCauley will be bringing his unmistakable paintings to The Stable, our Jackson, WY location this August. McCauley has developed a devoted following through the years with his soulful and whimsy laced depictions of bears and other wild creatures. Consider a road trip to Jackson to visit our year old gallery space and these delightful paintings! The show runs from August 17th to September 13th.
"I am a fictionalized history revisionist. I gather together my animals and compress them into the rectangle as if they're all on the Raft of the Medusa, adrift, with one common concern: survival. As would happen on any lifeboat, the inhabitants are a mixed lot indeed. Animals from different climate zones are found side by side. Not so fictitious now that global warming is blurring the distinct zones. Predator and prey ignore previous tensions and stare out at the viewer, as if to ask, "Well?" And a storm brews on the horizon. Read the signs. We are down at eye level with the animals because there is no hierarchy. Snails and polar bears. We're all in this together. Read the signs." - Robert McCauley
To see more images of McCauley's paintings, stop by his page on our website here.
Visions West Gallery, 108 South Main St, Livingston, MT, MT 59047