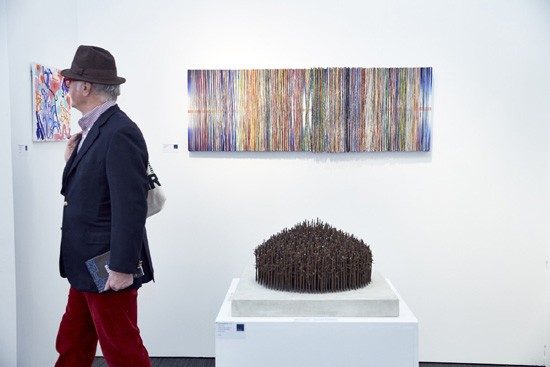 LONDON ART FAIR 2018
ANNOUNCE LIST OF EXHIBITORS AND
CURATED PROJECTS FOR 30TH ANNIVERSARY EDITION
From 17 - 21 January 2018, London Art Fair will return for its 30th anniversary edition. Launching the international art calendar, the Fair offers exceptional modern and contemporary art from leading galleries around the world. Alongside this, it continues to provide insight into the evolving international market through specially curated spaces Art Projects and Photo50, presenting innovative developments in contemporary art and photographic practice.
London Art Fair 2018 invites collectors and visitors to discover work by artists from the 20th century to today, ranging from Modern British masters to exciting new talent. In celebration of their landmark 30th year, London Art Fair will feature a unique exhibition in partnership with Art UK. Bringing together thirty artworks from the nation's public art collections, Art of the Nation: Five Artists Choose will recognise the extraordinary diversity and importance of the UK's publicly-owned art.
2018 Exhibitors
131 exhibitors will participate in this year's Fair, attracting galleries from across five continents to the capital. New international exhibitors for 2018 include Artco Gallery (Germany); Galeria Miquel Alzueta (Spain); La Lanta Fine Art (Thailand); Stoney Road Press (Ireland) and YIRI Arts (Taiwan). Returning for this year is Maus Contemporary (USA), who will exhibit within the main Fair having debuted in last year's Art Projects. Other highlight stands include a collaboration between Skipwiths (UK) and Berwald London (UK), contrasting the work of contemporary Asian artists with a collection of Chinese ceramics carefully built over thirty years.
The Fair will feature work by a host of renowned artists including Andy Warhol, Joan Miro, Pablo Picasso, Frank Auerbach, Banksy and Damien Hirst. Several galleries will be celebrating the work of influential 20th century artists through solo presentations - The Redfern Gallery (UK) will be showcasing the work of Paul Feiler during his centenary year, whilst Waterhouse & Dodd (UK) will bring together a selection of private works by David Bomberg ahead of his major retrospective at Pallant House Gallery, marking the 60th anniversary of the artist's death.

LONDON ART FAIR
17 - 21 January 2018
Business Design Centre, 52 Upper Street, Islington, London N1 0QH