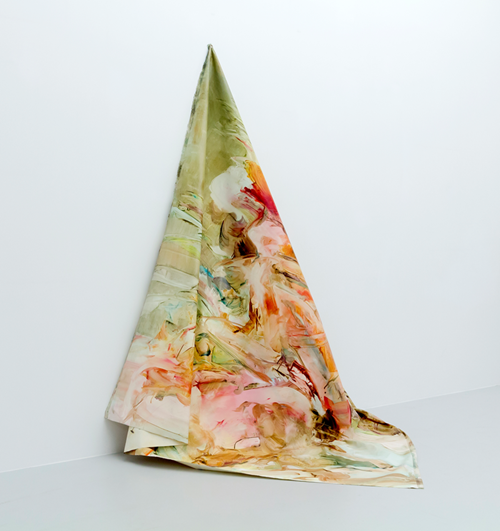 Katrin Westman, Robe I, 2016, oil on canvas, 215 x 200 cm. Installation height 210 cm
KATRIN WESTMAN

DISROBEMENT
Galleri Andersson/Sandström concludes its autumn season with an extremely ambitious young artist, Katrin Westman (b. 1987). Working abstractly, she is not content to allow the edge of frame to contain her expression as many of her work adopt a sculptural form and encroach into the room. Disrobement explores the new boundaries of abstract painting and announces that the tradition of painting is alive and relevant.
In Westman's exhibition Disrobement, the artist presents an all new body of work that both challenges the viewer's physical space and their preconceived notions about painting. "Painting in the expanded field" is a relevant concept that can be seen in both her large-scale paintings, and in several sculptural-like painting that physically engages with the viewer.
Westman takes the viewer on a journey across the canvas in her brush strokes, revealing her process. Westman begins these journeys in the long history painting, and with that there is a strong presence of the human form in her work. By digging into the past, she ends up in the moment. Several of the works in the exhibition are inspired by the Italian 16th century artist Giovanni Bernini's sculptures.
I want to be caught by the painting as if it were unbridled. The painting is a start. Everything is on a surface, both the paint and body together are formed into a single object in the room. The boundaries of my preconceptions of what painting is, is expanded by working toward the sculptural in painting.- Katrin Westman
Katrin Westman, Portrait, 2015, Installation view, 564 x 405 cm
Westman's color usage displays a maturity that allows her to guide and communicate a sense of humor with the viewer, while striking an emotional chord. Portrait (2015) is a series of 15 paintings portraits forced against their will coexist on the same wall. They are in consistently in dialogue or turning their backs to each other.
There is an inherent power of the work titled Mussels (2016). Held tightly by a strap, it gives the impression that it could at any moment break free.
A spiritual and sacred quality is felt in Robe I (2016), as the canvas hangs heavily from the wall.
Galleri Andersson/Sandström first exhibited Katrin Westman in 2015, in a group exhibition titled Between the Devil and the Deep Sea. This will be the artist's first major solo exhibition.
A catalog has been produced in conjunction with the exhibition and will be available during the press preview Thursday, November 17th at 9 am.
KATRIN WESTMAN born in 1987 in Örebro, Sweden. She recently graduated from the Academy of Fine Arts in Umeå in 2015. Today lives and works in Stockholm. Works by Katrin Westman can be found in the collections of Bonnier Konstförening, SAK (the Swedish General Art Association), and Kristinehamns Konstmuseum. In 2014, she was the youngest ever to be awarded Kristinehamns Konstmuseum young artist scholarship. In 2015, she was awarded scholarships from the Foundation Anna-Lisa Thomson, and the Eva and Hugo Bergman Memorial Fund.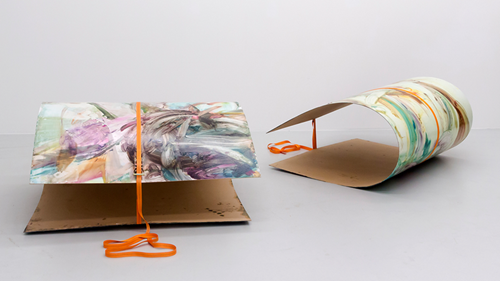 Katrin Westman, Mussels, 2016, oil on masonite, 60 x 122 x 100 cm
Additional Information:
Artist: Katrin Westman
Exhibition Title: Disrobement
Exhibition dates: November 17th - December 17th, 2016
Location: Galleri Andersson / Sandström, Hudiksvallsgatan 6, Stockholm, Sweden
Gallery hours: Tue-Fri 11 am - 6 pm, Sat 12 - 4 pm.
Free admission