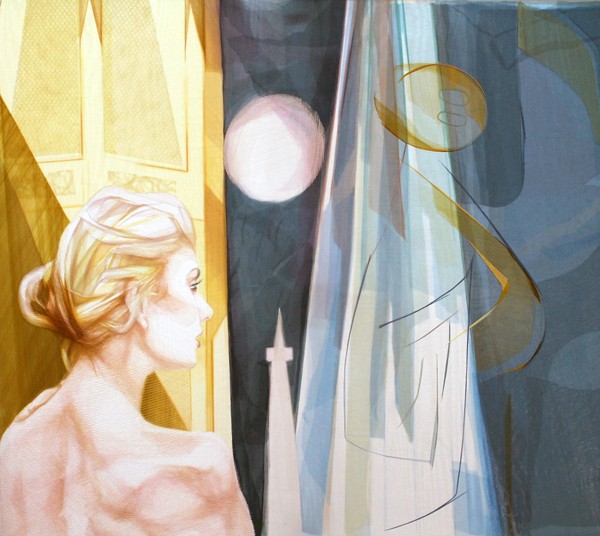 Monika Thiele Draußen suchst du dich hinter dem Draußen, 2016,
Yarn on organza, 160 x 180 cm
GALERIE SUPPER is pleased to announce its first participation at this year's POSITIONS Art Fair, which is centrally located at Arena Berlin during the Berlin Art Week. Within the context of international exhibitors with a focus on modern and contemporary art, we will be presenting selected positions and recent works from the gallery's program.
Monika Thiele's (b. 1966, Erfurt, lives and works in Baden-Baden) new thread paintings stand out through their special kind of luminance and intensity of colour. By the exclusive use of straight lines, the artist creates complex worlds with needle and thread. She weaves personal stories and cultural historical references into a dense net of associations and allusions.
Christian Awe lovelite, 2017, Acrylic on canvas, 120 x 100 cm
Christian Awe (b. 1978, Berlin) is known for his multilayered paintings. Through partial scratching, the artist unveils formerly covered layers of expressive compositions of shapes and colours. His most recent works, the water paintings, have monochromes as their basis, being completed by powerful eruptions of colour, which float over the canvas in trickles, covering the layers underneath.
We would be very happy to welcome you at our booth E04.
Press contact:
Dirk Supper, phone : +49 - 72 21 - 37 30 450, fax: +49 - 72 21 - 37 30 451
E-mail: This email address is being protected from spambots. You need JavaScript enabled to view it.