Anette H. Flensburg, The Magnolia. Later, 2018, oil on canvas, 90 x 110 cm
ANETTE H. FLENSBURG
STILL
Galleri Andersson/Sandström is proud to announce Anette H. Flensburg's fifth solo exhibition at the gallery. In this upcoming exhibition, Still, new paintings from 2018 will be presented.
Anette H. Flensburg is a painter who paints interiors. Rooms that are most often devoid of humans but filled with spatially defined boundaries in the form of walls, screens and translucent surfaces. In addition to these formal elements, the paintings harbour intensity and hold certain moods. With her exceptional craftsmanship, Flensburg creates illusory representations of three-dimensional spheres and succeeds in creating forms for psychological ideas that cannot be materialized, but which are omnipresent, and invisible.
'Still' can mean a still image, an indication that there were pictures before and after this picture, unmistakably changed. But it can also mean still or quiet, still and constant. In the world of Art, Still Life is another word for Nature Morte, depictions of more or less perishable objects set in a room.
The paintings in the exhibition Still correspond in different ways with several of the aforementioned meanings and with the still life tradition. The pictures have the character of a captured momentum when the light falls at a specific angle, creating special shapes and sharp shadows. When the objects stand thus and the room itself is viewed from this subjective perspective, they create a significant, frontally oriented configuration.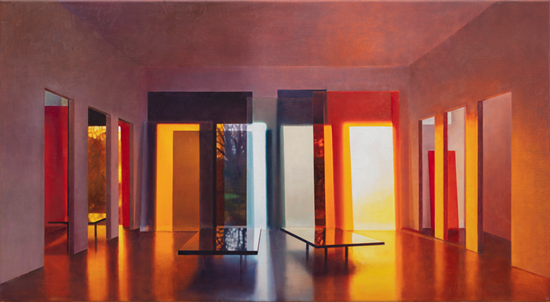 Anette H. Flensburg, A sudden glow, 2018, oil on canvas, 60 x 110 cm
However, many of the paintings differ on essential points from the still life painting. First, there are no pictures of 'utility objects' but images of elements in a model room and that the indoors opens up to the outdoor room outside, the garden. A magnolia and a knotty shrubbery are recurring features in several of the paintings, and the organic forms create a strong, almost bodily contrast to the architectural and rectilinear structures.
So what are the paintings about and why do they look like they do? The paintings as such are not about anything; the approach is a phenomenological query into that what is visible. Indirectly it suggests that the space in the pictures is a form of metamorphosis; it carries its own transformation, in the frailty of the construction. It is an expression of an attempt to retain the intensity that can occur in the field of vision, as if there is an important message about the world in this transient frame. 'Still waters run deep' as the old saying goes.
Flensburg's choice to paint the models and photographs means their final form is more intense than if they had been displayed mid process. The developing of the images as paintings is a way to focus on the sensitive aspect as well as a way to illuminate the fictional character of the painting. This also blurs reference layers such as place, scale and time - which in turn is a way of pointing to infinity within the finite.
For more information, please contact Klara Rudebeck, This email address is being protected from spambots. You need JavaScript enabled to view it., +46 (0)8-32 49 90