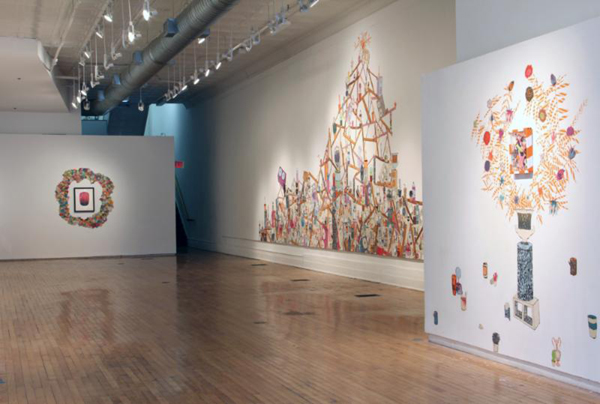 ASSEMBLER
TOMORROW, Wednesday, May 14, doors at 6:45 pm
Free and open to the public
Bring a friend and join 1708 tomorrow evening for the latest discussion of our Assembler series with speakers Brooke Inman and Matt Shelton. The conversation will focus on 1708's current exhibition, AFTER PARTY featuring an installation by Andrew Kozlowski. Light refreshments will be served.
Assembler is a series of conversations that occur in conjunction with 1708's exhibitions. Artists, curators, and art and art history professors engage the audience in the process of examining content in Contemporary art, starting with the most basic question: What am I looking at? Assembler creates a dialogue based on the premise that the simplest answer -i.e. "I see a blue square on a black background"-is a valid starting point to understanding a work of art. From here, participants work together to assemble the meaning of the art work shown in the gallery.
Assembler welcomes and encourages all levels of experience to participate!
Brooke Inman is from DeMotte, IN. She holds an MFA from VCU's Painting & Printmaking Department, and a BFA from The Cleveland Institute of Art. She currently teaches as adjunct faculty in VCU's Painting + Printmaking Department and in the Department of Art + Art History at the University of Richmond. She also teaches in the Richmond community at Studio Two Three and the Visual Arts Center.
Matt Shelton is an artist and teacher from Danbury, NC. He received an MFA in Painting and Printmaking from VCU and a BFA from Guilford College. From May 2012 to January 2014, he served as Gallery Coordinator at 1708. He lives in Richmond, where he teaches in VCU's Art Foundations and Painting & Printmaking Departments.