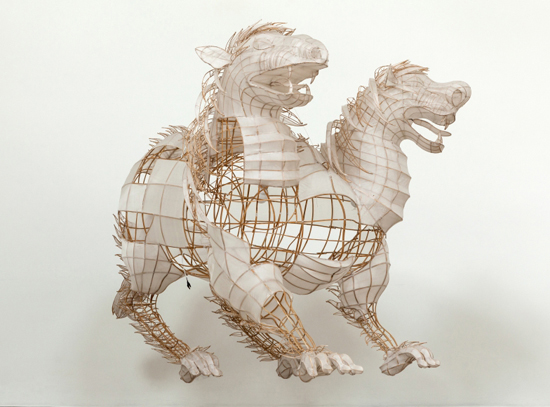 Ai Weiwei - Chuti, 2015 - Bamboo and silk
We are excited to announce the opening of the Stockholm gallery with Tyre, an exhibition by the renowned Chinese artist and activist Ai Weiwei. The viewer will encounter works that oscillate between the rich iconography of Chinese history, contemporary expressions, and artistic predecessors and collaborators. The exhibition, curated by the artist, does also mirror injustice as well as hope in contemporary society.
Conceptual Art, Minimalism and Zen Buddhism. Andy Warhol and the non-elitist expressions of pop art and the revolutionary aesthetics of Dadaism: in Ai Weiwei's art these elements converge at a core of political and social topics. From a prominent position in the late 1970s Chinese avant-garde Ai Weiwei moved to New York in 1981 where he spent more than a decade in a crowd among names such as Allen Ginsberg and Wang Keping. During his New York years, a growing familiarity with Marcel Duchamp's oeuvre made a deep impact on Ai Weiwei whom adopted an attitude of constantly challenging genres and questioning imposed limitations on art and mankind. In the conceptual work Dropping a Han Dynasty Urn (1995), an act of destruction is documented through a series of three analogue photographs, and was created shortly after his return to China. The urn crashing into pieces on impact with the ground can be interpreted as a representation of a Chinese society during times of dramatic change. As much as it speaks of societal transformations, the recorded action is a symbol of hope. Included in the exhibition is a rendering of Dropping a Han Dynasty Urn using LEGO blocks to recreate the image of this iconic work.
In Ai Weiwei's artistry, visual representations are closely linked to the dealings of the activist. The boldness, often associated with significant artistries, extends through Ai Weiwei to include the necessary bravery of those dedicated to fight injustice. The artworks in the exhibition revolves around the pre-conditions and problems that emerged in the fracture between ancient Chinese history and the Maoist Cultural Revolution. Against this backdrop they highlight contemporary issues such as the refugees' journey across the Mediterranean escaping the horrors of the ongoing war in Syria. In reworking ancient artifacts or through modeling sculptures with great sensitivity towards classical techniques, Ai Weiwei creates a distillate of historical and contemporary aesthetics where iconoclasm and reverence converge. All while the artist, endowed with critical perspective as well as extreme elegance, makes comments on contemporary political matters and global commerce.
With a profound knowledge and insight in modernist and contemporary movements, Ai Weiwei effortlessly moves from film, photography and sculpture to architectural and curatorial works. Always present is his sharp sense for political and ideological impact. His artistry works as an instrument of change through extensive exhibitions and digital tools – all in the effort to instill hope and courage and to, really, make the world a better place.
Ai Weiwei was born in Beijing in 1957. He studied at Beijing Film Academy, Beijing and at Parsons School of Design, New York. Ai Weiwei has exhibited extensively at museums and institutions such as HAM, the Helsinki Art Museum, Helsinki (2016); Royal Academy of Arts, London (2015); Martin-Gropius-Bau, Berlin (2014); Indianapolis Museum of Art, Indianapolis (2013); Hirshhorn Museum and Sculpture Garden, Washington D.C. (2012); Taipei Fine Arts Museum, Taipei, Taiwan (2011); Tate Modern, London (2010) and at Haus der Kunst, München (2009). Ai Weiwei has been awarded several grants, among them the Václav Havel Prize for Creative Dissent, Human Rights Foundation, New York (2012).

Galerie Forsblom
Karlavägen 9
114 24 Stockholm