Adonna Khare, Play with Matches, 14x11, graphite on paper
A D O N N A K H A R E
Using paper as an initial starting point, artists Adonna Khare and Hacer, take us back to childhood. Hacer, brilliantly morphs oversized brightly colored origami animals into impressive metal sculptures and Adonna imaginatively draws princess chimpanzees, elk-eating sharks and pool playing tigers and zebras that are stand-ins for life experiences. A castle-bearing elephant may playfully symbolize carrying the weight of the world around or a shark trying to eat an elk with trees for horns could signify feeling like a fish out of water. The absurdities of life are captured eloquently in Adonna's work. To see more work Click Here
Adonna was awarded the $200,000 Art Prize in 2012, which allowed her to return to art full time. Her work can be found in many museums and private collections including Crystal Bridges Museum in Bentonville, AK.
Pool Party, carbon pencil on paper, 72x199
Sandra dal Poggetto, American Fork #8, 84x78, oil, soft pastel, charcoal, buckskin on canvas
S A N D R A D A L P O G G E T T O
"The archaic permeates our modern lives-we walk on the archaic; we drink it; we breathe it. It is necessary. It is landscape-sensuous, visceral, alive. As I walk the land that is Montana, something happens to my understanding of art history. The Euro-American point of view breaks down, the iconic horizon dissolves. Parts, details, surprise from all directions and the circle of the horizon surrounds me. Irony, the outside perspective, cannot take root here." -Sandra Dal Pogggetto
Click Here to see more work.
Dal Poggetto was born in Sonoma, California, she now lives and works in Helena, Montana. She received an M.A. in Painting and Drawing from San Francisco State University, a B.A. from the University of California at Davis, with honors in Art Studio, and studied in Italy. Dal Poggetto was awarded the Helene Wurlitzer Painting Fellowship, a Pouch Cove Foundation Residence, the Playa Invitational Residency Award, and twice awarded a Ucross Foundation Fellowship. She has had solo exhibitions at Montana Museum of Art & Culture University of Montana, Northwest Museum of Arts & Culture, Yellowstone Art Museum, Oregon State University, Holter Museum of Art, University of California at Davis, Peter Koch Printers, Montana State University, Billings.
Nathan Craven, Blue Spine Frame, 18x22x3.75, ceramic
N A T H A N C R A V E N
"Most of my work is based on ceramics as a building material, specifically the brick, which has a long history of use as a unit of construction. The building of walls and floors, their placement, and the materials they are made from create varying spaces and determine our interactions within an architectural volume. Constructing porous walls and floors with my own versions of "bricks" I aim to define and clarify space in ways that draw attention to these otherwise unnoticed elements as well as to the spaces in which we dwell." -Nathan Craven
To see more work Click Here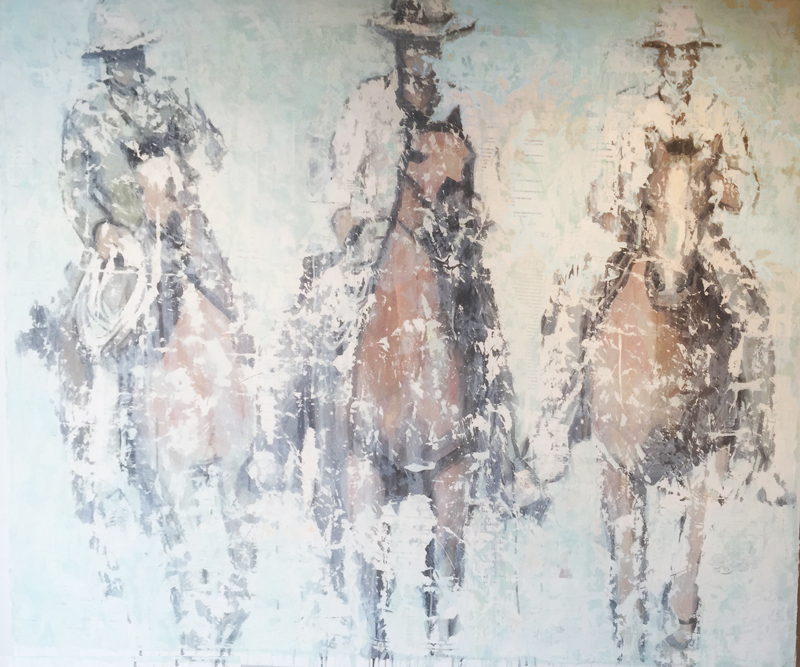 Nicole Charbonnet, Cowboys (Magnificent Seven), 48x60, mixed media on canvas
N I C O L E C H A R B O N N E T
Nicole Charbonnet's stereotypical Western imagery captured in soft, sanded plaster explores past and present perceptions and how we redefine our values, agenda and relationships. Superimposing images in watery washes of paint with paper, fabric, and plaster, her surface reveals a memory of each preexisting stage.
Click here to see more available work.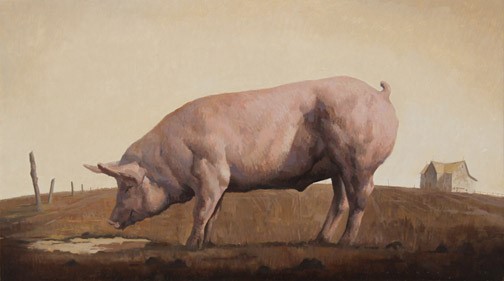 Craig Blietz, Shadow in the Brook, 12" x 25", oil on panel
C R A I G B L I E T Z
Pastoral Dreaming
Wisconsin painter Craig Blietz brings a painterly precision to the barn yard. He says, "embedded in my work are recognizable, form-rendered animals set in a context that is both abstract and formalist. Animals are the perfect non-verbal messenger of a painting's symbolism. They serve as the surrogate for an open narrative, and their mere presence and form plays out a human drama. As a painting's subject, animals make it possible to manage the abstract and visceral response of the viewer. Their behavior can be interpreted in the viewer's own terms." Craig has exhibited his work in numerous museums and one of his paintings resides in the permanent collection at the Miller Art Museum. Click here to see Craig's paintings.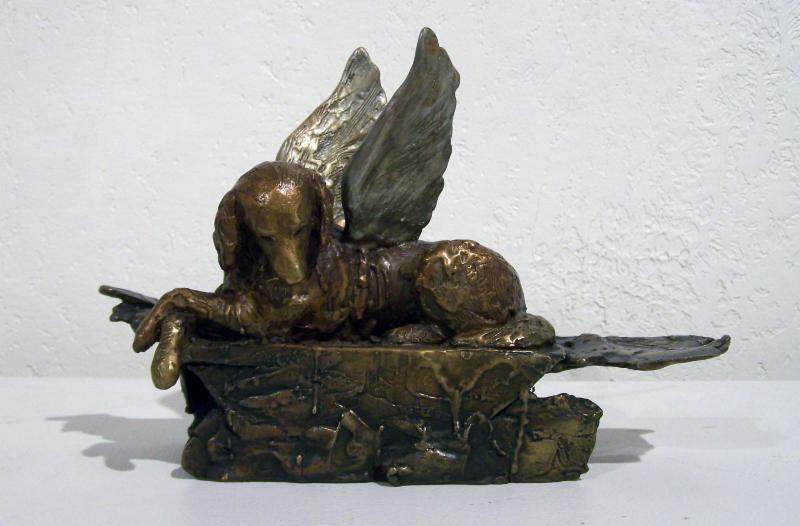 Fran Nicholson, Artemis, 12" x 8" x 4", bronze
F R A N N I C H O L S O N
Working intuitively, assembling fragments, and capturing the energy of hot tools and molten wax, Fran creates Artemis, the goddess of wilderness and wild animals. Fran's bronzes remind us of our canine companions greatest virtue, their ability to live peacefully in the moment. Click here to see more of Fran's work.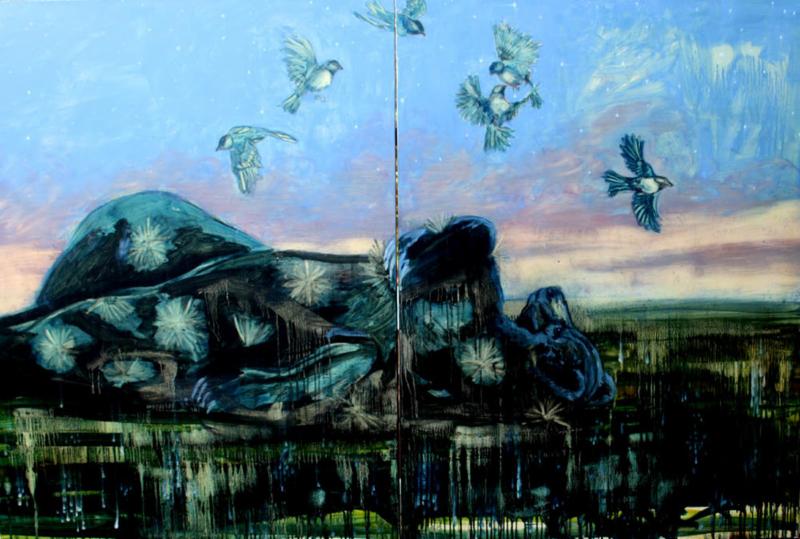 Todd Horton, The Secret of Making, 48" x 72", oil on canvas
TODD HORTON
Nature is full of mystery and Todd Horton endeavors to capture a small piece of that in his art. Balancing between realism and surrealism Todd's canvases invite a narrative filled with magic and symbolism.
Click here to see more of his paintings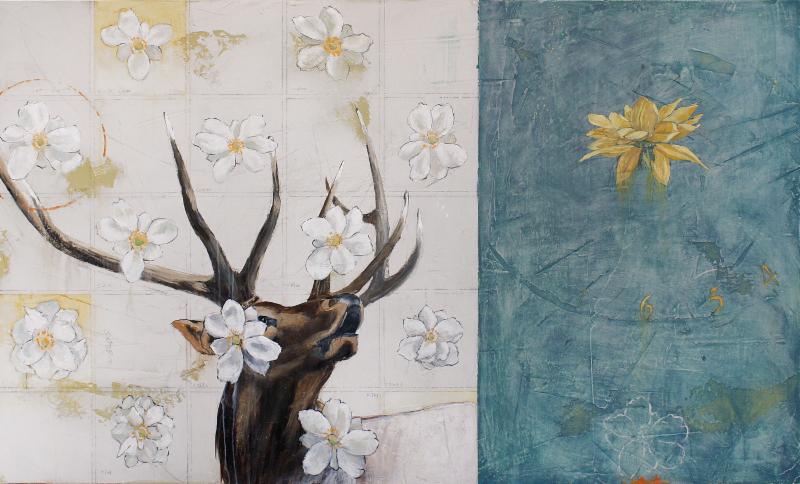 Michael Dickter, First Love, 50" x 30", Mixed Media on Panel
MICHAEL DICKTER
Seattle artist Michael Dickter creates a permanent record of the impermanence in our world. His work is all about the fragility of life, nature, and beauty. He fills notebooks with sketches of birds and flowers, recreating them in a grid, which acts as a counterpoint to the organic imagery in his finished painting. Click here for more.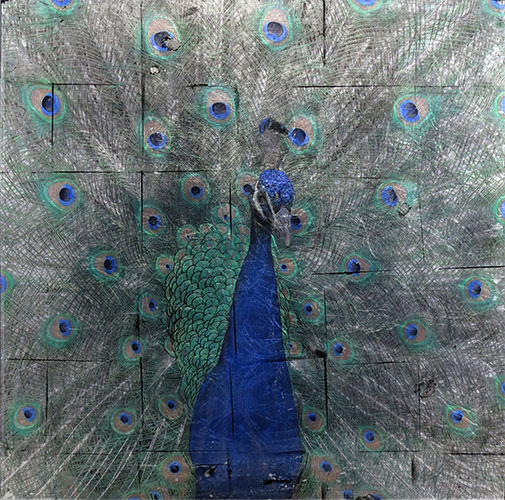 Mike Weber, Peacock, 30" x 30" x 3", Mixed Media on Panel
M I K E W E B E R
Using photographic and painted images, gold and silver leaf, and clear, high gloss resin, Mike Weber carefully crafts his art. His paintings are about synchronicity, which is "the orchestration of the balance of life on our planet as it takes place in nature". The natural world provides an example for how we should live in harmony. Click here to see more of his work.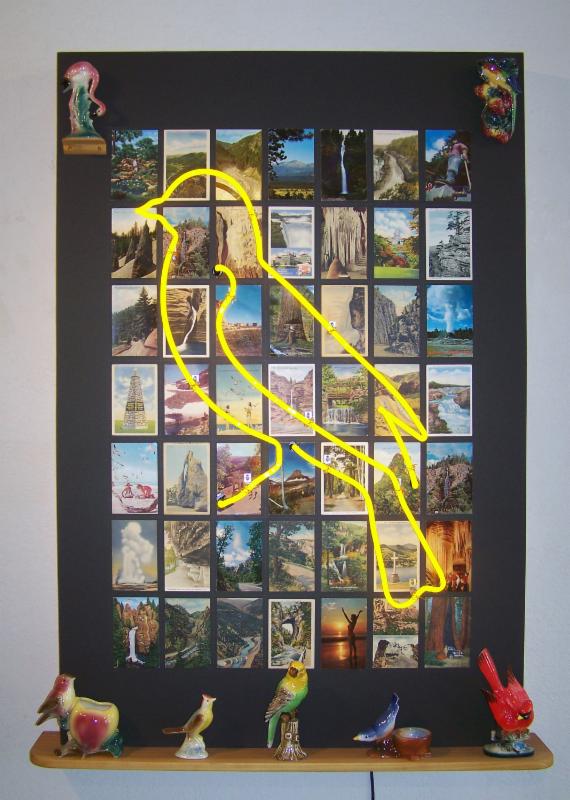 Willem Volkersz, Roadside Attractions, 55" x 40" x 7, neon, paint wood, and found objects
W I L L E M V O L K E R S Z
Willem Volkersz emigrated to the US from Holland at the age of 14 and became fascinated with popular culture: larger than life advertising figures, neon signs, postcards, and travel souvenirs. He added found objects to his paintings in graduate school and neon in the late 60's and early 70's. His work is often autobiographical, but many can relate to the kitschy souvenirs and National Park mementos.
Click here to see more of Willem's work.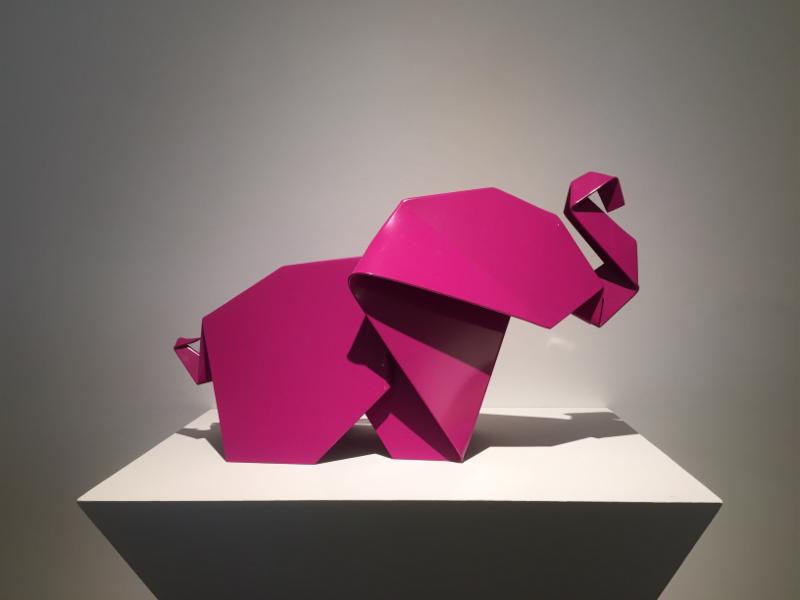 Bixby, folded steel, 29x11x1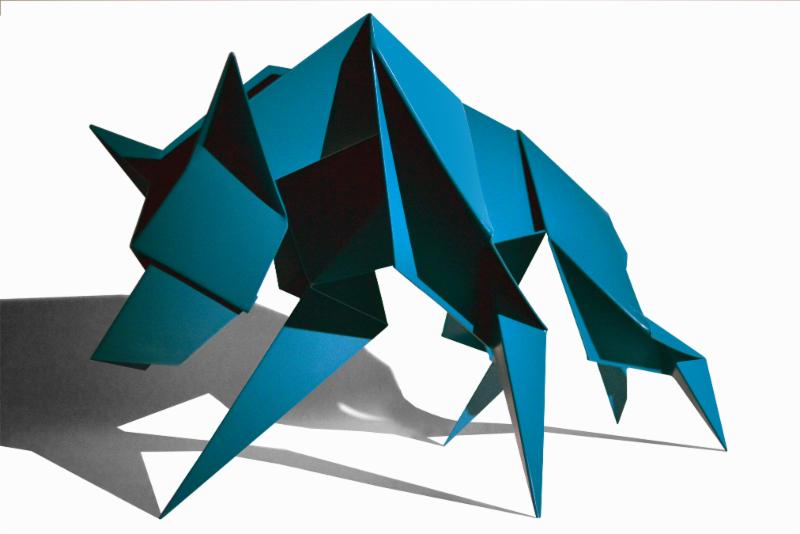 Coyote, (Stalking), folded metal, 57x27x32
HACER
Renowned for his bold, origami-inspired, folded metal sculptures that explore psychologically complex themes; Gerardo Hacer's introduction to the nostalgic art form began at age seven when a volunteer in one of his foster homes read, "Sadako And The Thousand Paper Cranes" by Eleanor Coerr.
His reductive reinvention of the aesthetic evolved technically over decades along with its conceptual counterpart which is an amalgamation of exposure to Alexander Calder's bold, playful sculpture and [after recruitment by renown art fabricator, Peter Carlson] first hand working knowledge of Jeff Koons' steadfast attention to detail and Ellsworth Kelly's exhaustive commitment to minimalism.
The perfection of his technique in combination with monumental vision have manifested museum and national art fair exhibitions and realized massive, permanent sculptural installations: Wynn Macau Luxury Resort, The Los Angeles Pacific design Center, University Hospitals Case Medical Center in Cleveland, OH; Los Angeles Trade Technical College and Autry National Center Southwest Museum.