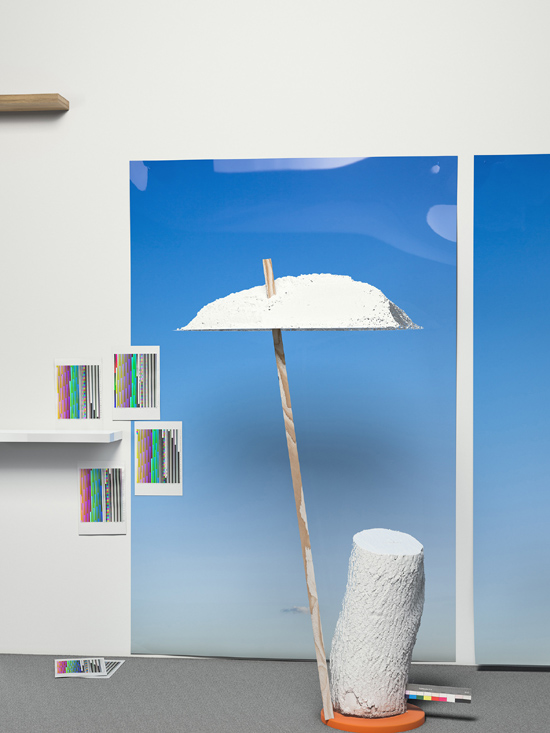 Marco Habeck, untitled, 2014, Inkjetdruck on PRC 180 HQ, 187 x 140 cm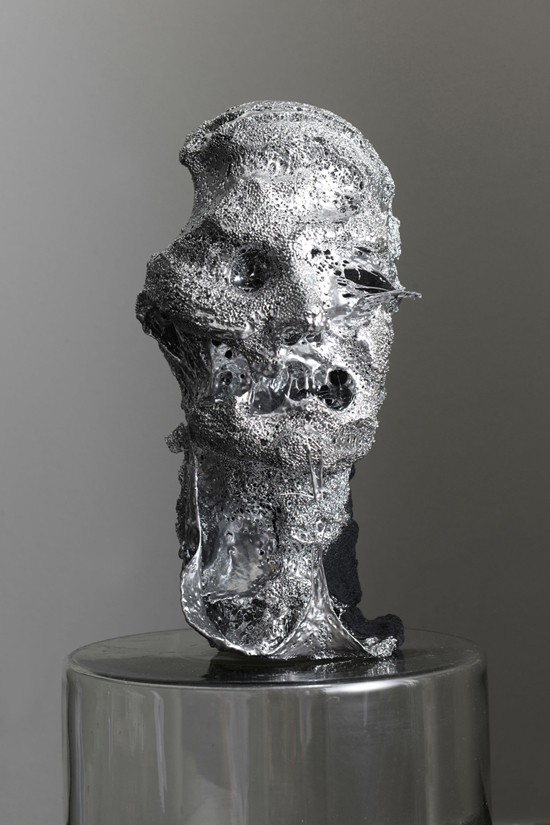 Martin Wühler, 2014, Z-165-SW, Inkjetdruck on PRC 180 HQ, 75 x 55 cm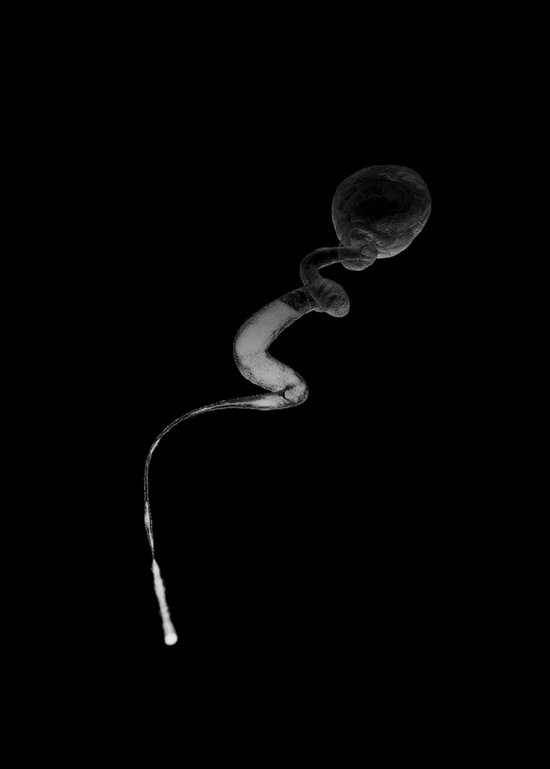 Martin Eder, Invisible, 2012, aluminium plated polystyrol & resin, 50 x 35 x 30 cm, private collection
"Zu Gast bei Supper (Guest at Suppers)" a new exhibition series temporarily extends our previous program with a curated group exhibition consisting of the works of three different artists, shown together for the first time here in Baden-Baden. The opening of our series, which will take place once a year, marks the exhibition "Künstliche Paradoxien (artificial paradoxes)", curated by Hendrik Bündge, Staatliche Kunsthalle Baden-Baden.
"Künstliche Paradoxien" brings together aesthetic contradictions reflected in the diverse artworks of Martin Eder (*1968), Marco Habeck (*1983) and Martin Wühler (*1983): reality and fiction, planning and coincidence or the consciously ironical, twisted handling of known motives.
The last is obvious in Martin Eder´s water color paintings: salacious female nudes are combined with cat representations, at the first view evoke the impression of kitsch. The sweetish colours of the paintings are contrasted by the masterly application of wet-in-wet-technique leading to the boundaries of reality. In his sculptures, corrosive liquid is poured over styrofoam heads and in that condition covered with metal. The result alternates between planning and coincidence, giving them a twice inscribed memento mori function.
Marco Habeck simulates an apparent reality by photographic means. A stumb is becoming the starting point of his digital narrative, whose single elements repeatedly raise questions. A digitally scanned heap of gravel becomes a cloud or a parasol confronting the observer with expectations and his own conception of the world. Due to the illustrative character of photography, already in the late 19th century several attempts were made, to push beyond the technical limits of what has been possible by now, using manipulations of an staged death, apparitions or double exposure, enabling the truly impression of simulation. With Habeck, photography takes a contemporary extension: with techniques like rendering and the use of uncountable image editing software, artworks are emerging, proving the rise of the digital: the simulation of reality and the questioning of an piece of art.
Martin Wühler`s large-sized tryptichexhibited here follows a strict serial raster, in whose equal-sized squares imprints of soap-bubbles are captured on the base. A potentially explosive mixture of glycerin, glucose, tenside and soap sud, Wühler refined for years, represents the attempt to visualize the categories of time and space. Wühler added chrome colour to some of his soap-bubble-works, which can be experienced with fascinating iridescent reflections, depending on the light.
Martin Eder born 1968 in Augsburg studiedcommunication design at the University of Augsburg from 1986 on and graduated 1992. He went on to study at Nürnberg Academy of Fine Arts 1993 to 1995. From 1996 to 1999 he studied withEberhard Bosslet (master class 1999 – 2001) at Dresden Academy for Fine Arts.
Martin Eder is represented internationally from the gallery Eigen+Art, Berlin/Leipzig as well as Hauser & Wirth, London/New York/Zürich. His works are displayed in numerous solo and group shows, f.e. the second Prag Biennale, Poland, Essel Museum, Klosterneuburg Austria, Gemeentemuseum, Den Haag, Netherlands, Neue Nationalgalerie, Berlin, Kunsthalle Mannheim as well as in several renowned art associations.
Marco Habeck born 1983 in Erfurt studied photography 2009 – 2011 at Leipzig Academy of Visual Arts, since 2011 he participates in the photography class Prof. Heidi Specker.
He gained experience in his first exhibitions at the 5th Festival for Photography Leipzig, Leipziger Baumwollspinnerei, at HALLE 14 – Centre for Contemporary Art, Leipzig, Kulturbahnhof Kassel and at the Hungarian University of Fine Arts in Budapest.
Born 1983 in Erfurt, Martin Wühler studied East Asian Art History as well as Sinology between 2008 and 2010 at the Ruprecht-Karls-University of Heidelberg. From 2010 to 2012 he went on and studied European Art History and Sinology at the University of Leipzig. Since 2012 he enrolled in media art at Leipzig Academy of Visual Arts.
He gained experience in his first exhibitions at Trufanowstrasse 8, Leipzig, and in the Gallery Pretty Portal, Düsseldorf. He participates amongst others in HALLE 14 - Centre for Contemporary Art, Leipzig Kunsthaus Erfurt and Forum für Kunst, Heidelberg.
10.05 – 27.06.2014 "Künstliche Paradoxien" Martin Eder, Marco Habeck, Martin Wühler
(Showroom: Katharina Meister, Monika Thiele, Mike MacKeldey, Marc Junghans, Andreas Wachter)