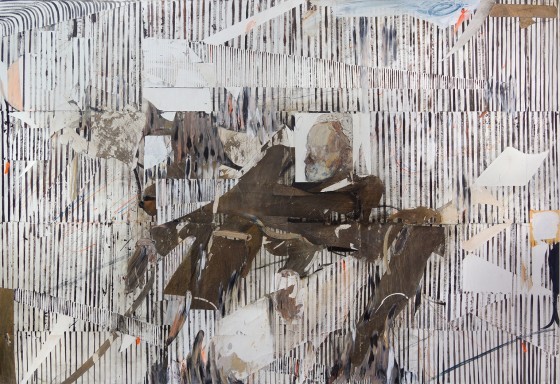 Reima Nevalainen, Side-view, 2017, Brass, Acrylic, collage and pen on canvas, 165 x 240 cm / 64.96 x 94.5 inches
Reima Nevalainen at Art Berlin 2017
September 14–September 17, 2017
Stand 2.A04
Galerie Forsblom is pleased to participate in Art Berlin 2017 with a selection of works by Reima Nevalainen, who employs a multi-layered collage technique combining paint with materials such as sand and paper, or scraping away the paint to reveal contrasting surfaces underneath. Humans and nature serve as the subject matter of Nevalainen's paintings – not as conflicting elements, however, for human figures and nature coexist as equals in his compositions.
Art Berlin
Station – Berlin, Luckenwalder Straße 4 – 6, 10963 Berlin
Opening hours
September 14: noon–4pm (Previrew), 4pm–8pm (Opening)
September 15–September 16: 11am–7pm
September 17: 11am–4pm
For further information and images
Kiira Miesmaa, This email address is being protected from spambots. You need JavaScript enabled to view it., +358 50 491 3010
Reima Nevalainen
Reima Nevalainen (b. 1984) graduated as a painter from the Kankaanpää Art Institute in 2008. He was chosen as Finland's Young Artist of the Year in 2016. Nevalainen's works are found in notable Finnish museums including the Helsinki Art Museum and the Kiasma Museum of Contemporary Art. The artist is based in Porvoo, Finland.