Philipp Weber, Rivalinnen 4, Sarah - 2009, Oil on canvas, 110 x 170 cm
"Der zweite Blick"
"Der zweite Blick" ("A second glance"), is the title of our upcoming exhibition at GALERIE SUPPER, Baden-Baden. Marc Junghans (*1966, photography), Joerg Eyfferth (*1957, painting), Thomas Ruff (*1958, photography) and Philipp Weber (*1974, painting) are visually performing an examination of sight.
By seeing a picture, what form of doubt and unsecureness arises and what kind of questioning is going to be evoked?
In the past it was the task of realistic paintings to verify events in a pictorial way. The reality shouldn´t be viewed as a transfiguration by aesthetic means but to reflect the direct naked truth of the actual. Also in early photography a snapshot reproduced the reality of what was seen. Pictures had become something which was believed in with the first sight.
Nowadays borders are blurring – like in our exhibition where picturesque photography meets photorealistic paintings.
At the second glance the reality of the depicted picture opens itself to the observer, where the objective sight transforms to the subjective. It is the agency of the observer, in which mode of expression he believes, caused by the impression of the picture, which calls for watching in a certain mode; a mode which is no longer locatable. Now it is the twodimensional reconstruction of a lost reality.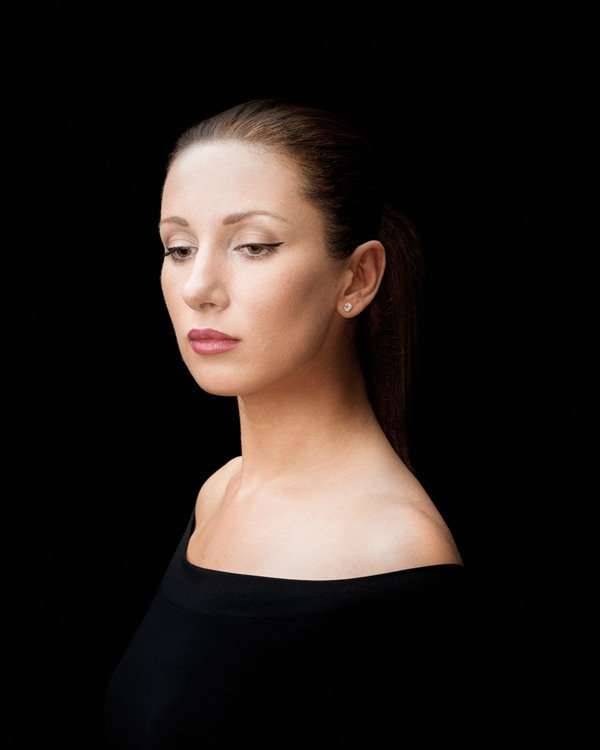 Marc Junghans, Anna 1, 2014, giclée print, Edition 5 + 2 E.A., 60 x 80 cm
Wether if its the pictoresque images from Junghans, which appear as photographs by a closer look. Or a beautiful model watching us challenging, like in a fashionshot, nevertheless exposing itself as a hyperrealistic painting by Weber. Painted reflections side by side with virtuosic painted material qualities from Eyfferth are meeting each other as realistic things in the non-place of the mirror, relieved from reality. The artistic ensamble is completed by Ruff, who is changing our perception of seeing by his overdimensional blurred pixels of well known motifs.
Are these approximations to reality? Or is it the delusion of sight, inviting us to take a closer look, enabling new ways of seeing reality.
Photographies as well as paintings become analytical models of seeing. The twodimensional surface is no longer a depiction of reality, it is a projection screen for our dreams und desires, inviting us to read it at a "second glance".
Marc Junghans was born 1966 in Weinheim an der Bergstraße. Since this year we welcome him as a new part of our gallery program. Using his specific pictorial vocabulary, for himself a personal medium of exspression, he formulates a subjective and individual truth in the eye of the beholder.
Joerg Eyfferth was born 1957 in Witzenhausen/Werra, after an apprenticeship as an lithographer, he began to paint as an autodidact. Since 1993 he is working as an freelance artist. After being a guest lecturer at the Staatliche Zeichenakademie Hanau in 2005 he was incorporated by the Frankfurter Künstlergesellschaft in 2006. Since 2008 he is a lecturer at Fachoberschule für Gestaltung Hanau. Joerg Eyfferth is represented internationally by Galerie Supper as well as Galerie Ulrich Gering, Frankfurt am Main.
Philipp Weber was born 1974 in Rostock. Between 1996 and 2000 he studied at Kunsthochschule Kassel with Prof. Rob Scholte and Prof. Kurt Haug. Followed by studies at Universität der Künste Berlin, where he graduated 2002 in Prof. Wolfgang Petrick´s master class, he eleborates his pictorial language in an hyperrealistic manner. He had his first exhibition as a freelance artist in 2002 at Galerie Hofmann + Kyrath, Berlin. Since 2003 he is represented internationally by Galerie Ulrich Gering, Frankfurt am Main.
Thomas Ruff was born 1958 in Zell am Harmersbach. He studied between 1977 and 1982 at Staatlichen Kunstakademie in Düsseldorf in Bernd and Hilla Becher´s class. With his fellow students Thomas Struth and Andreas Gursky, Ruff is one of the most important contemporary photographers in Germany. Between 2000 and 2006 he was a professor at Kunstakademie Düsseldorf. His work is represented internationally by Johnen Galerie, Berlin as well as Galerie Rüdiger Schöttle, München.
GALERIE SUPPER
Kreuzstraße 3
D - 76530 Baden-Baden
Tel.: + 49 (0) 72 21 - 37 30 450
Fax: + 49 (0) 72 21 - 37 30 451
E-Mail: This email address is being protected from spambots. You need JavaScript enabled to view it.
Web: www.galeriesupper.de