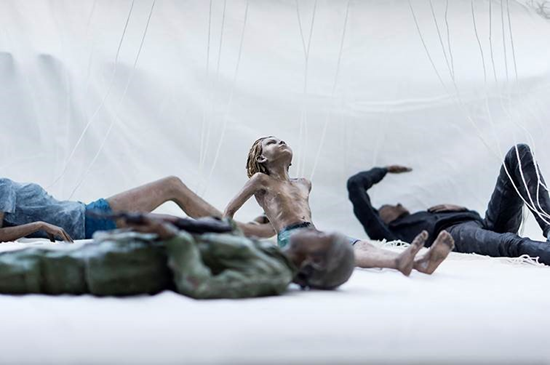 Assa Kauppi, Frozen Fright sculpture series, Galleri Andersson/Sandström
ASSA KAUPPI
Frozen Fright
6.4 - 13.5 2017
Assa Kauppi's breakthrough came in 2011, when she won over viewers and critics with her enduring sculptures. The Race is Over (2011) and In Search of A Winner (2013) addressed contemporary issues, such as competitiveness and the pressure to perform. In this third solo exhibition with Galleri Andersson/Sandström in Stockholm, she once again calls attention on tendencies in today's society. The series Frozen Fright, consists of eleven different characters with unique individual faiths, but all share a universal feeling of angst and seriousness.
Placed on the floor, the eleven bronze figures range in ethnicity, age, and represent various segments of the world population. The arrangement invokes a similar feeling of an aerial photography and a snap-shot of people laying down, gazing up towards the sky.
Hanging from the ceiling are hand-stitched parachutes made from synthetic silk, the largest of which is nearly one meter in diameter gives the appearance of glass. Like the tentacles of a jellyfish, the parachute's cords are in a temporarily resting state. A clear message is communicated, a sense of ambivalence increases, is there a potential danger or is help on the way?
The starting point for Frozen Fright begun over two years ago as the alarming rates of uncertainties about the world situation in the news intensified. Kauppi experienced the situation as overwhelming and threatening, she found that people in general are becoming more powerless, desensitized and frightened. As the Dutch proverb goes "Fear is a bad advisor", and perhaps fear is our greatest danger, because frightened people tend to turn their fear into anger and that anger on to others.
Assa Kauppi shows us another effect of fear; it paralyzes us and we turn into passive spectators. Remaining at a safe distance, glued to our televisions, we witness the most horrible of events, while most of us decide not to respond or take action. What is it we should fear most; wars, natural disasters or the fact that humanity watches while the unthinkable atrocities take place in plain sight? As a comment to this, Assa Kauppi has given the figures eyes made of rhodium, a rare platina metal. Their glassy gaze meets the viewers, only to be greeted by the reflection of oneself.
Assa Kauppi, born 1977, lives and works in Stockholm. In the spring of 2011, she graduated from the Royal Art Academy in Stockholm and begun exhibiting with Galleri Andersson/Sandström. Since 2011, Kauppi has been exhibiting both nationally and internationally, and has completing several public commissions. She's exhibited in museums in Istanbul, Krakow, Copenhagen, Miami, and Prague. Among the exhibitions in Sweden includes Borås Sculpture Biennial, Halmstads Konsthall, Kristinehamn Art Museum, Eskilstuna Art Museum, Konstens Hus in Luleå, and Bror Hjorth's House in Uppsala.